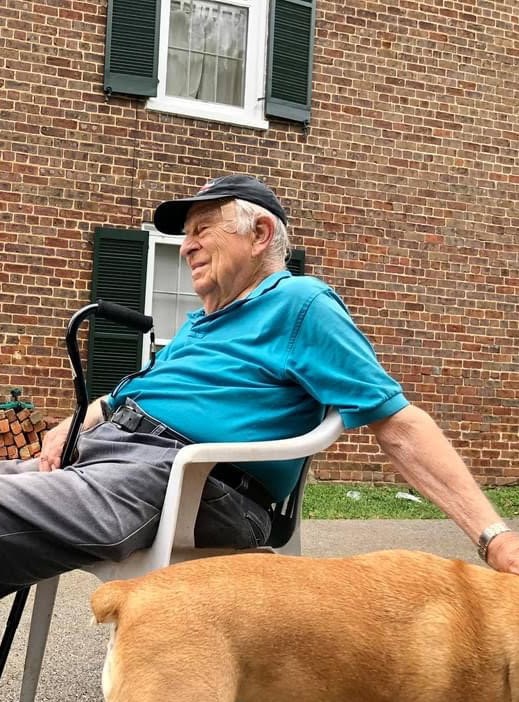 Founding member of the Roanoke Valley Preservation Foundation, Inc., George Andrew Kegley of Roanoke, Virginia, passed away in his sleep on Wednesday, February 16, 2022, at Lewis Gale Hospital after a brief illness.
He lived 93 exceptional years, through his writing for the Roanoke Times for 44 years, historical and church publications, and most importantly, volunteering beyond the norm for so many good causes, touching the lives of far more folks than we will ever know.
After retiring from the Roanoke Times as a business editor with 44 years of service, George became one of the community's most active volunteers. In addition to his work with the Roanoke Valley Preservation Foundation, George sat on the Boards of the Historical Society of Western Virginia, the Western Virginia Land Trust, the Rescue Mission, Blue Ridge Literacy Volunteers, and the Catholic Charities & Transitional Living Center; served as editor for the Journal of the Historical Society and the Virginia Lutheran; and coordinated the summer campership program of the Lutheran Cooperative Ministries. He previously served on the Board and as Secretary of the Association for the Preservation of Virginia Antiquities (now Preservation Virginia), the first statewide preservation organization in the nation. George resided at Monterey, a Greek Revival home constructed in 1845, which is protected by a historic preservation easement held by the Virginia Department of Historic Resources. It is also the only property in the City of Roanoke protected by a conservation easement held by the Virginia Outdoors Foundation (115 acres). George was a native of Wythe County and graduate of Roanoke College.
As Robert Frost wrote in "After Apple Picking," But I am done with apple picking now. Essence of winter sleep is on the night, The scent of apples: I am drowsing off. Dad never knew an apple that wasn't a friend nor worthy of pressing into cider. Many friends and family assisted with cider making over the years.
He was preceded in death by his wife of 60 years, Louise Fowlkes Kegley. He was also preceded in death by his brothers, James Kegley and Fred Kegley of Wytheville.
He is survived by four children, George Andrew "Andy" Kegley (Nan) of Wytheville, Mary Louise Kegley "Sissy" of Roanoke, Robert Kegley (Melissa) of Wytheville, and Richard Kegley (Kristy) of Atlanta; nine grandchildren, Calder Kegley (Megan) of Charlottesville, Grace Kegley of Charlottesville, Reed Kegley of Little Rock, Arkansas, Nathan Guererro (Francesca) of Arlington, Maria Guerrero of Porto, Portugal, Emma Thomas (Gavin) of Philadelphia, Amy Fleming (Scott) of Suffolk, and Katterine and Clara Kegley of Atlanta; seven great-grandchildren, Sawyer and Finley Kegley of Charlottesville, Sara and Hugo Guerrerro of Arlington, Hazel Louise Thomas of Philadelphia, and Beau and Chase Fleming of Suffolk; nephews, Rick Kegley of Wytheville and Dan Kegley of Chilhowie; niece, Sally Kegley Little of Gate City; and sister-in-law, Nancy Kegley of Wytheville.
The Graveside Service will be conducted at 11 a.m. on Monday, February 21, 2022, at St. John's Lutheran Church Cemetery in Wytheville, Va. A celebration of his life will be held at St. Mark's Lutheran Church at a later date.
Memorials in George's name may be made to Blue Ridge Literacy, Roanoke Area Ministries (RAM House), St. Mark's Lutheran Church, and The Historical Society Western Virginia. Online condolences may be shared with the family at www.oakeys.com.