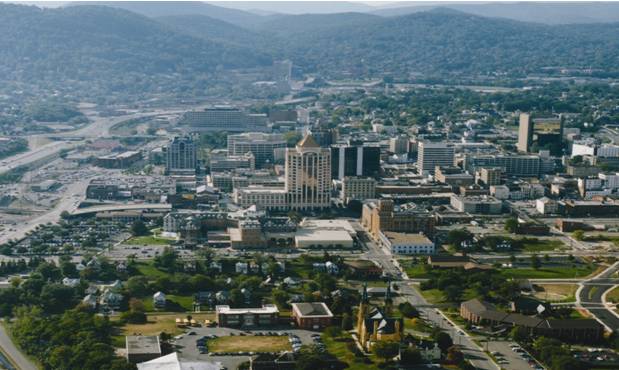 Like many American cities and counties experiencing the growth and changes that several centuries can bring, the Roanoke Valley and surrounding counties, cities, and towns' "built environment" are enlivened by a variety of architectural styles that embody a set of physical characteristics and design philosophies that make them not only stand out from one another but also blend together in a way where they complement one another.
The Roanoke Valley Preservation Foundation hopes you will enjoy learning more about our historic valley by taking these tours and will check back often as additional tours are added.
In addition to walking, bicycle tours also offer an enjoyable way to experience a community's history and beauty. An app called 'Ride With GPS' focuses heavily on route tracking and publishing functionality as Ride Reports created by other cyclists and walkers allow you to view detailed images and site descriptions. A free version is available for both Android and IOS devices which allows you to try out the app's premium features like turn-by-turn navigation, offline maps, and in-depth route revision before upgrading to a subscription. You can check out the app by clicking on one of the following links:

Ride With GPS for Android

Ride With GPS for IOS
Walking Tours:
Updated Historic Downtown Roanoke Walking Tours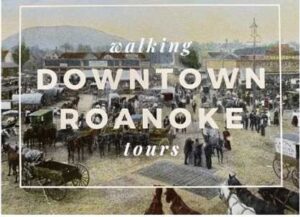 Roanoke Valley Preservation Foundation recently released a new and revised version of our popular Downtown Roanoke Walking Tour. The tour is available in both published and digital formats and are available at most local downtown museums as well as at the Hotel Roanoke and Virginia's Blue Ridge Visitor Information Center (O. Winston Link Museum). Digital tours can be accessed via scanning a QR Code found on postcards also available at these same locations.
Published Tours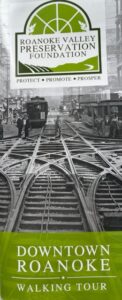 The published Roanoke Downtown Walking tour brochure is comprised of three (3) areas of interest – the Commerce Walk, the Community Walk, and the N&W Railway Walk – that combined together provide you with an overall view of our city's history.
• The Commerce Walk begins with the bustling City Market Building and continues along some of downtown's most important and scenic commercial streets.
• The Community Walk takes participants past buildings and landmarks central to the daily lives of Roanoke's citizens.
• The N&W Railway Walk allows participants to get in touch with our city's railroad heritage and rich history of Roanoke's Black community.
The published walking tour opens up into a full-size 18″ x 24″ fold-out brochure that also includes several historic photos and brief history of Roanoke's growth.
Digital Tours
The digital Roanoke Downtown Walking tour has also been published on smaller post cards that have the same three areas of interest – The Commerce Walk, The Community Walk, and the N&W Railway Walk – but broken down into three (3) separate tours with each tour providing its own distinctive view of our city:
Once you scan one of the postcard's three (3) individual QR tour code, a map of downtown Roanoke automatically appears with the tour's short walking route highlighted on your mobile device with informational markers along the way showcasing the points of interest you are looking at. By walking on these brief tours, you will learn about our city's history which in turn will help you understand who Roanoke is today.
Annual Tweed Bicycle Ride Tours:
Historic Bicycle Tours:
Other Bicycle Tour Opportunities:
For other amazing bicycle tour opportunities, check out one or more of the rides offered by RIDE Solutions, a nonprofit organization that provides alternative transportation options – ridesharing (carpooling and vanpooling), biking, public transit, walking, and guaranteed ride home services – to residents living within the greater New River Valley, Roanoke Valley, and others located nearby in southwest Virginia.