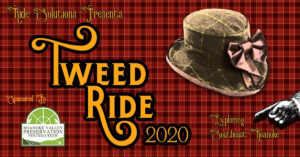 The Roanoke Valley Preservation Foundation, RideSolutions, and the Southeast Action Forum, Inc. neighborhood association partnered together to host the 6th Annual Tweed Ride in November 2020. The self-guided genteel bike tour meandered from Downtown Roanoke to explore Roanoke's Southeast neighborhoods by road and greenway. In light of the COVID-19 pandemic, the 2020 ride was developed as a self-guided, virtual tour, with video presentations by members of the Roanoke Valley Preservation Foundation available to be streamed to participants' mobile devices along the route.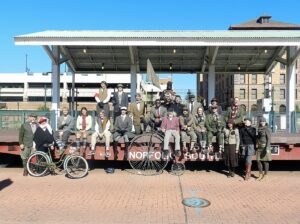 Participants were encouraged to dress up in their fanciest tweed and mount their vintage bikes in preparation for their fall riding experience and asked to send a selfie by tagging @ridesolutions on Twitter, @ridesolutionsva on Instagram, and @roanokepreservation on Twitter during their ride held during Saturday, November 14th through Saturday, November 21st, 2020. Those who submitted a photo earned an entry into a drawing held on Monday, November 23rd for one of five (5) RIDE Solutions prize packs along with some of their photos submitted over the course of the week.
Visit the event website page for additional information.
2020 Tweed Bicycle Ride – Southeast Roanoke Statistics computed from imported data
Distance: 8.6 miles
Minimum Elevation: 894 feet
Maximum Elevation: 1038 feet
Total climb: 256 feet
Total descent: 267 fee
Clicking on the stars shown on the 2020 Tweed Bicycle virtual map below with showcase points of interest along the route: