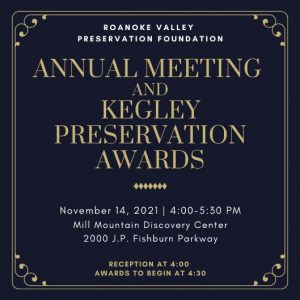 On a brisk, late Sunday afternoon, November, 14, 2021, the Roanoke Valley Preservation Foundation hosted their Annual Meeting and the 2021 Kegley Preservation Awards program at the Mill Mountain Discovery Center located on top of Roanoke's Mill Mountain.
Between 50-60 attendees enjoyed a variety of light homemade appetizers made by Trustee members Alison Blanton and Katie Gutshall along with hot apple cider on the center's patio overlooking the beautiful Blue Ridge Mountains decked out in their fall colors while others remained inside the center's warmth.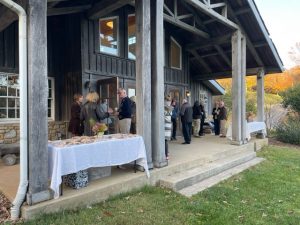 Following this networking social opportunity, Foundation President Whitney Leeson began the program welcoming everyone to the Mill Mountain Discovery Center and thanked them for attending. She provided an overview of the Foundation's mission and accomplishments that had occurred during 2021.
Vice President Bob Clement followed by announcing the Foundation's 2022 Board of Trustees and thanked all of the current Trustees for volunteering their service during the year.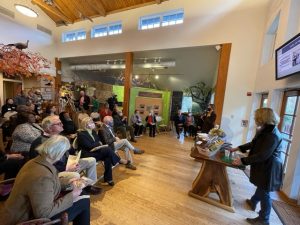 Kegely Preservation Awards committee Chair Whitney Feldman then annonuced the eight (8) Kegley Preservation Award recipients for 2021. Each award recipient provided a brief overview of their project/activity that was followed by the presentation of an awrd plaque with the assistance of committee member Judy Harrison.
The 2021 Roanoke Valley Preservation Foundation Kegley Preservation Award recipients were:
Kegley Preservation Award for Heritage Education & Advocacy – Joe Cobb, Honoring Their Breaths Project
Kegley Preservation Award for Neighborhood Preservation – Isabel Thornton, Restoration Housing, LLC
Kegley Preservation Award for Historic Restoration – St. Andrew's Catholic Church
Kegley Preservation Award for Lifetime Achievement in Heritage Education – Margaret and Alice Roberts
Kegley Preservation Award for Environmental Stewardship – Renee Powers, Mill Mountain Trails Plan
Evelyn Bethel Award for Heritage Education – Jordan Bell, Gainsboro History Tours
Kegley Preservation Award for Historic Preservation – George Kegley, Historic Monterey Smokehouse
Kegley Preservation Award for Heritage Education & Stewardship – Michael C. Maxey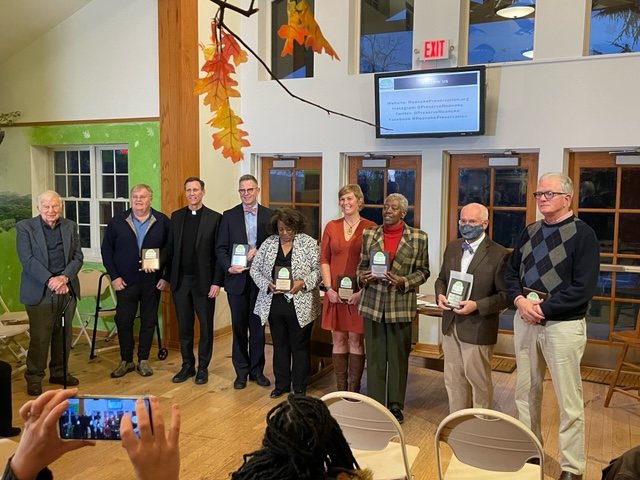 The Roanoke Valley Preservation Foundation thanks all of this year's 2021 Kegley Preservation Award recipients who have helped to protect our natural, cultural and historic resources for current and future generations to enjoy, appreciate and learn from.
The Foundation also sincerely thanks WDBJ7 television Joe Dashiell who was on hand to do a story on this year's 2021 Kegley Preservation Award program recipients.