In recognition of National Preservation Month, the Roanoke Valley Preservation Foundation (RVPF) held a Preservation Pub Talk at the Gainsboro Library on Wednesday, May 4, 2022. Foundation President Whitney Leeson welcomed approximately 50 attendees to the event that was kicked off by the Foundation's Secretary, Anne Beckett, announcing the 2022 RVPF Endangered Sites list. This year, the Foundation identified three (3) endangered sites in our area as well as a commentary on a trend of social injustice related to destruction of historic Black communities in the name of development.

The 2022 Endangered Sites included the last remnant of an early-19th century community in Salem, VA, a house built by a prominent leader in the Black community of Roanoke, VA, and the stone-pillared entrance to one of Roanoke's historic neighborhoods. In addition, a commentary was made regarding the possibility of Roanoke County's Slate Hill Community's history being lost to development, noting that while the historic buildings of this African-American community may be lost, it is important that the stories of the people who lived there and the community they built are not forgotten.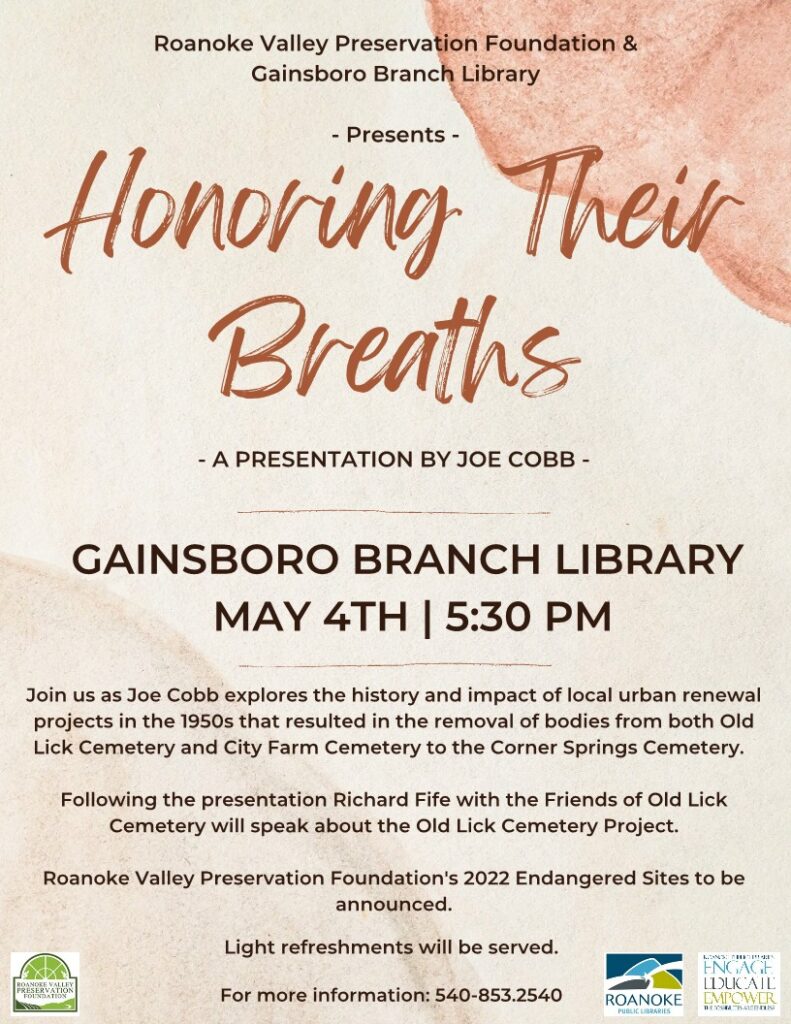 Joe Cobb then explored the history and impact of local urban renewal projects in the 1950s and 1960s that resulted in the removal of bodies from both Old Lick Cemetery and City Farm Cemetery to the Coyner Springs Cemetery. Over 932 bodies were relocated to property the City of Roanoke purchased in Coyner Springs from the Old Lick Cemetery by city employees to allow construction of the I-581 Orange Avenue interchange in addition to those indigents who were also removed from the City Farm Cemetery, once located on the Virginia Western Community College campus, due to their expansion.

As part of his dissertation, Joe hopes to learn the names of those relocated to the Coyner Springs Cemetery and honor them accordingly.
Following Joe's presentation, Richard Fife with the 'Friends of Old Lick Cemetery' spoke about the Old Lick Cemetery Project and the group's efforts to clean the cemetery of trash and brush to increase access to the tombstones for visitors to safely visit and pay homage to the deceased and reflection. They also plan on collecting information on the remaining tombstones and mapping their locations for the archives at the Harrison Museum of African American Culture and First Baptist Church of Gainsboro.
Light refreshments were provided to those in attendance who enjoyed this incredible evening of history.