Roanoke Valley Gives Day (3.18.2020) is fast approaching!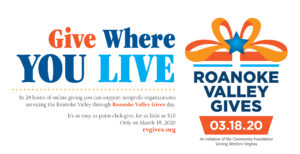 This annual event is designed to inspire those who love the

Roanoke

Valley

to invest in nonprofit organizations making a difference locally!

Roanoke

Valley Preservation Foundation is among those participating and we would love to have you, your friends, colleagues, and family help support our mission of protecting our history, promoting preservation, and contributing toward a prosperous community.
Our goal is $5,000 and we are counting on you to make this day a success!!
You can be a part of the largest day of giving in the Roanoke Valley for as little as $10! Simply make your donation on RVPF's Roanoke Valley Gives page at
https://www.rvgives.org/organizations/roanoke-valley-preservation-foundation
now through 11:59 p.m. on March 18th
We're eligible for incentive prizes through the challenges listed below! Donations must be submitted through our RV Gives page
In It to Win It: If we reach or surpass our goal of $5,000, Roanoke Children's Theatre will be entered to win a dollar for dollar match up to $15,000!
Midnight Madness: This is for all you night owls! A donation made between 12:00 a.m. and 1:00 a.m. on March 18th will be randomly selected and enhanced by $1,000.
Medium Leaderboard: Most dollars raised among medium nonprofit organizations with 1st place winning $5,000; 2nd place winning $3,000; and 3rd place winning $2,000.
Power Hours: $500 to the organization with the most donations during specified hours throughout March 18th.
Far, Far, Away: The donation with the farthest verified address from Roanoke will be enhanced by $250!
Busy that day and worried you'll forget?
Donations may be prescheduled NOW at
https://www.rvgives.org/organizations/roanoke-valley-preservation-foundation
B

est of all, your gift will still count toward the incentive prize challenges!