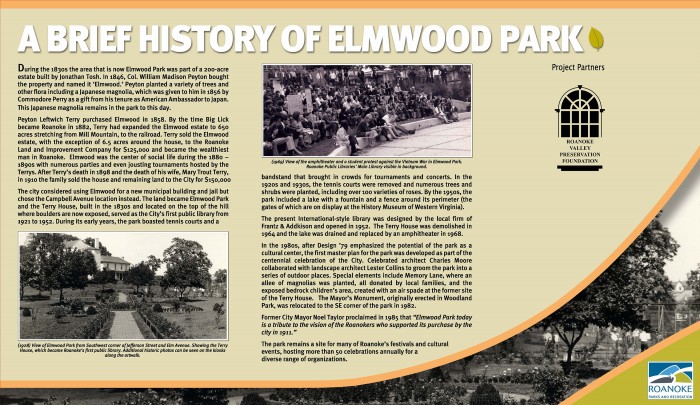 The RVPF celebrates National Preservation Month on Saturday, May 31 with the unveiling of two markers interpreting historic sites along the Roanoke River Greenway. A marker for the American Viscose Corporation, one of Roanoke's largest industries, will be unveiled at 10:30 a.m. at mile marker 25.5 near the 9th Street Bridge. This will be followed by a 5.2-mile bike ride to the second marker at Norwich near Bridge Street. The Norwich neighborhood developed in the early 1900s with many of Roanoke's earliest industries and worker housing. A third marker was installed earlier this year at Elmwood Park to tell the history of the Terry property that eventually became Roanoke's first park.
These three markers were made possible by an Arts & Cultural Plan Implementation Grant from the Roanoke Arts Commission and partnerships with Roanoke Valley Greenways and the City of Roanoke Parks & Recreation Department. As part of this project, the RVPF worked with Clay Kerchoff, a student intern from the UVa School of Architecture, to develop a master plan for interpreting
historic sites along the Roanoke Valley Greenway system. The RVPF will continue to seek funding and partnerships to install additional markers along the greenway!