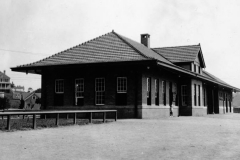 After many years of planning by the National Railway Historical Society (NRHS) Roanoke Chapter, the Friends of the Virginian Railway, and the Roanoke Valley Preservation Foundation, the Virginian Railway Passenger Station restoration was completed in July 2016.
On the night of January 29, 2001 – 45 years to the day after the last passenger train departed – the station was severely damaged in a fire. Just weeks after the fire, a committee comprised of representatives from local groups met to discuss the restoration of the station. The committee went on to acquire the station, which was donated to the NRHS Roanoke Chapter by Norfolk Southern Corporation and raised approximately $2.3 million for the project. Restoration on the station commenced with a groundbreaking ceremony in 2012.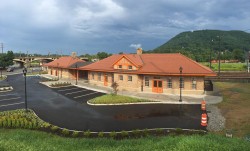 Now restored to its original 1909 appearance, the baggage and express building will house the office of the NRHS Roanoke Chapter and a museum dedicated to exhibits about the Virginian Railway and its employees. The larger passenger station building is available for rent which will provide a steady stream of income for the continued stewardship of both buildings and the site.
Click here to download a complete history of the Virginian Railway station history and restoration
News Articles:
$2 Million Restoration of Historic Train Station Complete (WSLS)
Group Completes Restoration of the Old Virginia Railway Station (WDBJ7)
Still Standing: Railway Society Restores Passenger Station, Honors Former Employees (Roanoke Times)